Where Can I Find DUI Car Insurance?
I received a DUI a few months ago and as part of my conviction I have to file an SR-22. My current car insurance company doesn't insure drivers with DUI convictions, so where can I find DUI car insurance?
Many drivers find out quite abruptly that their current car insurance company either will not insure them after a DUI (Driving Under the Influence) conviction or their rates jump so high they cannot afford their new DUI insurance rates.
You obviously live in a state that requires an SR-22 filing, which is simply a Certificate of Financial Responsibility form that needs to be filed by either you or your car insurance company. An SR-22 simply requires you to carry the state minimum liability limits and if your car insurance coverage lapses, your insurance company will notify your state DMV and your license will be suspended.
Finding Car Insurance After a DUI
Finding DUI car insurance can be quite a bit of work, but there are a few things you can do to mitigate the pain.
First, use the internet to your advantage. DUI car insurance quotes can easily be compared online, simply by clicking on the image below and filling out the quick form. Once completed, you will receive rate quotes that you can compare in the comfort of your own home.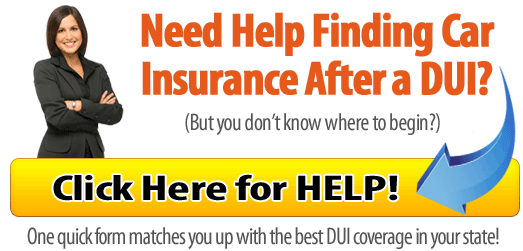 If you prefer to choose individual companies to quote your DUI car insurance with, simply choose your state from the list below:
Choose from many companies that sell car insurance in your state. You may end up finding the cheapest rates are actually with a lesser-known company that specializes in non-standard risks such as DUI and reckless driving.
Don't expect top insurance companies such as State Farm, Allstate, Farmers or Liberty Mutual to offer competitive rates after a DUI conviction. These companies primarily insure mainstream risks and their rates may be extrordinarily high with a DUI on your driving record. Other companies like GEICO, Progressive and The General have more tolerance for DUI convictions, and they will actually file your SR-22 for you if one is required.
The key to finding DUI car insurance is to compare as many rates as you can and don't take it personally if some companies won't take your business regardless of the premium paid. Once your DUI is over 5 years old, most car insurance companies won't charge for it any longer, and your rates will return to normal.
Reducing Car Insurance Premiums After a DUI
Without a doubt, you will pay higher rates after a DUI than before. So what can you do to get cheaper DUI car insurance?
There are many discounts you can take advantage of that can help offset the higher cost of DUI insurance.
Multi-policy discounts - Do you own a home or rent? You could save 20% or more simply by insuring your home and autos with the same company.
Multi-car discounts - Do you own vehicles that you aren't insuring? Insuring more than one car on a policy can earn discounts on all vehicles.
Driver training discounts - Completing and driver's safety course can get you a discount of 5% or more.
Safe vehicle discounts - Having a car with airbags or other passive restraint systems can save you money on your DUI car insurance
Good student discounts - If you have a high-school or college student on your policy, good grades can lower rates
These are just a few of the possible discounts available from most companies. By finding out ALL the discounts available, you may be able to offset some of the rate increase due to your DUI conviction. Finding DUI car insurance is not something any of us want to go through, but unfortunately it may be necessary. So take a few minutes and put the above tips to work saving you money!

More car insurance information
Readers of Where Can I Find DUI Car Insurance? also found answers to the following car insurance questions.
How can I save money on my car insurance?
I broke off my side mirror backing out of my garage
Moving out-of-state and finding a new insurance agent
Will my car insurance pay for damage to borrowed property?
Gap Coverage Car Insurance for Financed or Leased Vehicles
What is the best car insurance company?